Teaching Hidden History
The goal of this 4-VA grant was to create and co-teach a pilot version of a graduate digital history practicum course that combined history content, scholarship of teaching and learning, digital history, history education, and distance education in the summer of 2015.
Dr. Kelly Schrum
Associate Professor of Higher Education
Mark Barrow
Professor of History
In the News
Roy Rosenzweig Center for History and New Media blog – "Teaching Hidden History" – February 2015
Discover an Open Source – "Open Source and Humanities in the Digital Age" – by Joshua Allen Holm, March 3, 2015
Fourth Estate – "Humanities Courses begin Expanding use of Technology" – by Robert Winship, April 23, 2015
4-VA Case Study – "Teaching Hidden History: A collaborative case study series" – by Kelsey Kirland, August 2015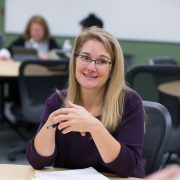 "4-VA provided an opportunity to work together, to reach out, and to connect with colleagues across universities."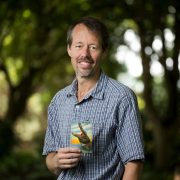 "We hope to offer a future version of this course during the regular academic year. The telepresence class was also surprisingly effective."
"The course project wasn't an inward reflection of scholarship designed for your own department but it was an outward look at how your work could benefit the field."
Publications and Presentations
"From a Scottish Tartan to Two Oily Hands: Students Reveal Historical Narratives in Familiar Artifacts," The American Historian, by Kelly Schrum, Nate Sleeter, Celeste Tường Vy Sharpe, Anthony Pellegrino, February 22, 2015.
"Teaching Hidden Histories in Online Asynchronous Courses," Poster Session, Teaching history: Fostering historical thinking across the K-16 continuum, University of California, Berkeley, CA, May 2015.
"Uncovering Hidden Histories," In-service Presentation, Fairfax County Public Schools, September 3, 2015.
"Teaching Hidden History: A hybrid course across institutions," Interactive session, Innovations in Teaching and Learning Conference, George Mason University, September 2015.
Brown bag presentation by Teaching Hidden History students, Roy Rosenzweig Center for History and New Media and Department of History and Art History, George Mason University, November 2015.
"Teaching Hidden Histories: A Multi-institution Collaboration in Higher Education," Poster Session, American Historical Association Annual Meeting, January 2016.
"Teaching Hidden History: Creating An Effective Multi-Campus, Hybrid Graduate Course," Conference on Higher Education Pedagogy, February 2016.