VIrginia RoboTics and Unmanned systems Education Summit II (VIRTUES II)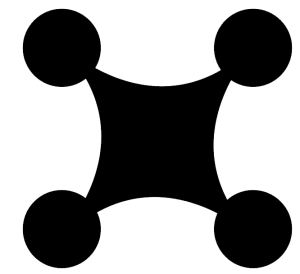 In February 2017 4-VA at JMU hosted VIRTUES II, which focused on one of the primary needs identified at VIRTUES I in 2016—strategic coordination between academia and industry.
The Thursday evening reception opened with remarks by President Jonathan Alger and SCHEV Higher Education Innovation Director Wendy Kang and offered an opportunity for unmanned aerial vehicle (UAV) faculty and industry professionals to network.
On Friday, speakers from the UAV industry expressed interest in hiring graduates with more than just technical skills, including competence in communication, discernment, critical thinking and problem solving. Curriculum speakers talked about the need for industry partnerships, facility access, class scenarios and funding.
After small group discussions, the 70 participants reconvened to listen to a panel of faculty and students who were part of the Virginia Drones Project—a class of cross-disciplinary teams that prototyped solutions to social and environmental challenges using UAVs. During the course, students had to familiarize themselves with the technical aspects of UAV use and operation, as well as learn to use technologies such as 3-D printers to produce attachments that expand the UAVs' functionality to tackle various problems. The panel recounted various challenges as they navigated the course which pushed them to develop proficiencies in areas unfamiliar to most students.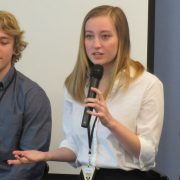 I had originally planned to get a PhD in psychology after graduation, but after working with the team I switched my major to WRTC. I thought I was just going to be a blogger for the team and I ended up taking over internal and external communications which looked like networking, setting agendas for meetings, running meetings, motivating the team, and setting and reaching goals. I essentially became the team's project manager.
Remarks from Virginia Secretary of Public Safety and Homeland Security, Brian Moran followed the small group session, discussing the intersection of Unmanned Systems in Virginia (UMS) technology and public safety.
Virginia Governor Terry McAuliffe provided the final address. He focused on the The New Virginia Economy, describing many of the successes that his administration has overseen to grow industry jobs and attract businesses and manufacturers to the area.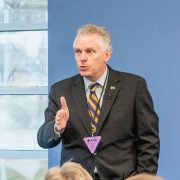 I want Virginia to be the global leader in unmanned aerial systems. Capitalizing on Virginia's advantages in the unmanned systems industry is key to building a new Virginia economy.
Read Unmanned Systems Achieve Significant Successes in 2017 Virginia General Assembly by Sean Cushing, President and COO at HAZON Solutions