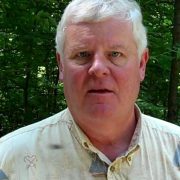 As we hoped, the limestone improved the water chemistry of the spring that feeds the raceways at Montebello. The fish response was dramatic with a 10% increase in weight, better health and vitality and zero mortality. Nearly 1,000 water chemistry analyses have been done in the past 10 months to confirm that the observed changes were due to the application of limestone.
Improving Water Quality
A pilot study at a state fish hatchery
In the fall of 2016, 4-VA awarded Dr. Daniel Downey $4,000 to collaborate with the Virginia Department of Game and Inland Fisheries on a projected called Water Quality Improvement Pilot Study for Montebello Fish Culture Station. Dr. Downey worked with Hatchery Manager and former JMU student Thom Teears and student researcher Kolin Kulzer to set up the pilot study at the Montebello Fish Culture Station where they are enhancing the chemistry of spring water by treating it with limestone. The treated water is fed into a tub tank containing rainbow trout, which have shown better growth rates than the control group in an adjacent tank.
Dr. Daniel Downey
Professor of Chemistry
Conference
Presented "Water Quality Improvement Plan for Montebello Fish Cultural Station" poster at the Southern Division of the American Fisheries Society's Virginia and Virginia Tech Chapter Joint Meeting 2017 "Applied Fish Health" in Lexington, Virginia