Digitizing an Archive
A collaborative digitization of the Dora Cline Fechtmann archival collection
In the spring of 2016, 4-VA awarded Dr. Deborah Gleason and Dr. Nena Powell a grant called A collaborative digitization of the Dora Cline Fechtmann archival collection at two Virginia Universities to collaborate with Dr. Mary Gibson and Linda Hanson at UVA along with Lynn Eaton and Laura Davis at JMU.
Graduate student Caroline Hamby was instrumental in transcribing the diary (circa 1935-1937) of Dora Cline Fechtmann, who trained as a nurse at Rockingham County Memorial Hospital Nurses School. A collection of scrapbooks included Ms. Fechtmann's photographs, postcards and correspondence.
After the team digitized the photos, they were included in a module for an elective course to teach the history of nursing during World War II (WWII) and to give students the unique perspective of a local nurse. In the spring of 2017, 25 students took the course for the first time.
Dr. Deborah Gleason
Assistant Professor of Nursing
Dr. Nena Powell
Associate Professor of Nursing
Dr. Mary Gibson
Assistant Director of the
Eleanor Crowder Bjoring Center for Nursing Historical Inquiry
Lynn Eaton
Special Collections Librarian
Laura Davis
Digital Conversion Specialist
Linda Hanson
Project Coordinator of the
Eleanor Crowder Bjoring Center for Nursing Historical Inquiry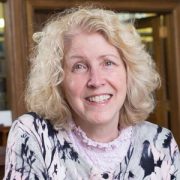 Our work shows how multiple departments and schools of nursing can collaborate on digitization of an historic archival collection. Caroline Hamby was able to decipher and digitize the diary of Dora Cline Fechtmann, and we were able to digitize the entire archival collection and use the collection in an online course at JMU in the spring of 2017.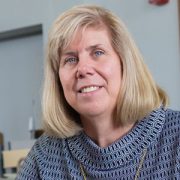 I appreciated the opportunity to share with students a local nurse's photos and experiences during her WWII service. This certainly added to the other information that my students learned about in the nursing and war module and allowed for some comparison of Ms. Fechtmann's service with other WWII nurses.
Interview featuring
Caroline Hamby
Clinical Mental Health Counseling MA/EdS
Caroline is a graduate student in the Clinical Mental Health Counseling program at JMU and works for JMU's Innovation Services as the digital scholarship/educational technologist. She played an essential role in the transcription of Ms. Fechtmann's diary and she shared her experience with 4-VA.
4-VA: What was your role in the project?
Caroline Hamby: With help from a 4-VA grant, I spent part of this year working on the transcription of a diary kept by a nursing student named Dora Cline Fechtmann studying in the 1930's at Rockingham County Memorial Hospital Nurses School. I embarked on this project in order to help bring the diary and the context in which the diary was written to life for students both at JMU and at UVA.
4-VA:  How did Dora Cline Fechtmann's story impact you?
Caroline Hamby: Dora's story impacted me a great deal. In a way, her fastidious daily entries about all aspects of her life made me feel like I was getting to know her. I think the diary communicates important things about women in the Harrisonburg community and their professional ambitions close to a century ago. Even though women's vocational choices were limited, women like Dora made a true difference for the people they served.
4-VA: What was the most rewarding part of participating in the project?
Caroline Hamby: I loved reading about her daily life, her dinners at her family's home, the sewing and the church picnics she attended. Dora wrote faithfully in her diary about her academic experience and her clinical experience. She clearly was devoted to her work and believed in its power. Her care for her patients is evident in the way she writes about them and listens to their life stories. This apparently continued to be true as she moved into war work and communicated with soldiers' families. Transcribing her story was a wonderful experience, and I hope that students and faculty will continue to learn from it.
4-VA: What impact does her story have on local nursing students and the JMU nursing program?
Caroline Hamby: Nursing faculty at both universities wished to use the diary in conjunction with other material to talk about the history of nursing. With the transcription now completed, faculty and students can benefit from the diary's extensive information about both the medical profession and daily life in that era. I see that as incredibly useful for nursing students at JMU and a unique way for faculty to contextualize the history they are teaching.
After completing the majority of the project, I learned that Dora went on to be a military nurse in WWII and post-war returned to Harrisonburg to practice for the rest of her working life, further cementing her place as an important member of the community whose experience should not be forgotten.