Catalyst for Collaboration
In 2013, 4-VA awarded Dr. Klebert Feitosa a grant to collaborate with GMU, UVA, VT and Virginia Commonwealth University (VCU) for Bringing together a community of soft matter researchers in Virginia. When Dr. Feitosa introduced the first Virginia Soft Matter Workshop as a result of the grant, it drew about 50 people from six different institutions across the commonwealth "to present their work, hear leaders in the field, exchange ideas and foster collaboration."
With these newfound partnerships, the workshop took on a life of its own toward the advancement of soft matter research. VT hosted the second workshop, UVA hosted the third, and then it spread beyond 4-VA to be hosted by VCU in its fourth year in 2016 with 95 people in attendance from 10 institutions across Virginia.
Dr. Feitosa and Dr. Shengfeng Cheng met for the first time at the original workshop, where they discovered that their areas of expertise complemented each other. In 2014, 4-VA awarded Dr. Feitosa and Dr. Cheng a grant called Short-range interactions of interfacial bubbles to investigate short-range interactions between bubbles freely floating at an air-water interface using experiments, modeling and theory and study its impact on the dynamics of large disordered foam aggregates. The experimental expertise of Dr. Feitosa was combined with the theoretical and numerical simulation expertise of Dr. Cheng to increase the breadth and depth of the investigation.
Later in 2014, 4-VA awarded the team a scale-up grant called Probing short-range interactions of interfacial bubbles to continue their research and apply for external funding.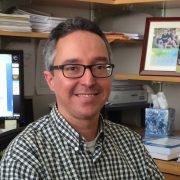 As an experimentalist, my own research program is significantly strengthened by the collaboration with my theoretical counterpart, Dr. Cheng. Our areas of expertise are complementary.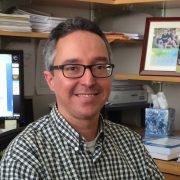 Direct results of the workshop include the formation of new research collaborations, the organization of three other workshops in Virginia, and the formation of the Center for Soft Matter and Biological Physics at Virginia Tech. Undergraduate and graduate students are currently involved, enhancing participation of students in the project. Without 4-VA support and capabilities, this project would not have been possible.
Dr. Klebert Feitosa
Assistant Professor of Physics and Astronomy
Dr. Shengfeng Cheng
Assistant Professor of Physics