Stream Acidification and Fish Species
Dr. Christine May from JMU and Dr. Todd Scanlon from UVA first met in 2013 when 4-VA hosted the Mountain Stream Symposium at JMU. In 2015 4-VA awarded Dr. May a grant to work with Dr. Scanlon and Ami Riscassi on Revealing the current relation between stream acidification and fish species richness: What is the trend after almost two decades of recovery? 
The project launched a collaboration between UVA's long-term water quality monitoring program and JMU's Department of Biology with the initial research effort assessing current status and trends in the biological health of watersheds in Shenandoah National Park. This information will aid decision makers at the local, state and federal level by providing valuable insight into the recovery trends of highly valued aquatic resources that have been impaired by acid rain.
Partnering with the Shenandoah Watershed Study & Virginia Trout Stream Sensitivity Study (SWAS-VTSSS) was an ideal opportunity for JMU to collaborate on a local and high-profile research endeavor with UVA at Shenandoah National Park.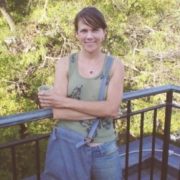 Ami Riscassi
Projects Coordinator, Shenandoah Watershed Study & Virginia Trout Stream Sensitivity Study, Department of Environmental Sciences