Mission
4-VA promotes innovation and advances the commonwealth
4-VA is a collaborative partnership among five Virginia universities powered by 4 initiatives. Our mission is to promote collaborations that leverage the strengths of each partner university and improve efficiencies in higher education across the Commonwealth of Virginia.
We carry out this mission by advocating unprecedented partnerships between faculty and departments to generate significant, innovative solutions to educational and real-world problems. Since 4-VA's inception, we've sponsored advancements in research, pilot courses, redesigned courses, shared courses, online programs, industry-focused adult degrees, new technologies, interventions, workshops, conferences and other programs.
History
4-VA aims to advance the commonwealth
In 2010, the presidents of George Mason University (GMU), James Madison University (JMU), the University of Virginia (UVA) and Virginia Tech (VT) combined forces with Governor McDonnell, other members of Virginia's government, and Cisco Systems, Inc. to launch 4-VA in response to three areas of Virginia's legislation:
The Governor's Higher Education Commission
The Governor's Commission on Economic Development & Job Creation
The Virginia Higher Education Opportunity Act of 2011, "Preparing for the Top Jobs of the 21st Century" (TJ21)
The focus on STEM education and innovation to "better position Virginia to create jobs and grow the economy" led to a broad challenge for the universities that continues to guide the work of the growing collaborative.
ODU joins for increased statewide impact and JMU serves as executive office
Early growth gained momentum and 4-VA continued to expand in scope and further develop its infrastructure. In early 2015, 4-VA welcomed Old Dominion University (ODU) as its newest member. In the same year, 4-VA transferred management of the executive office to JMU in the Department of Information Technology.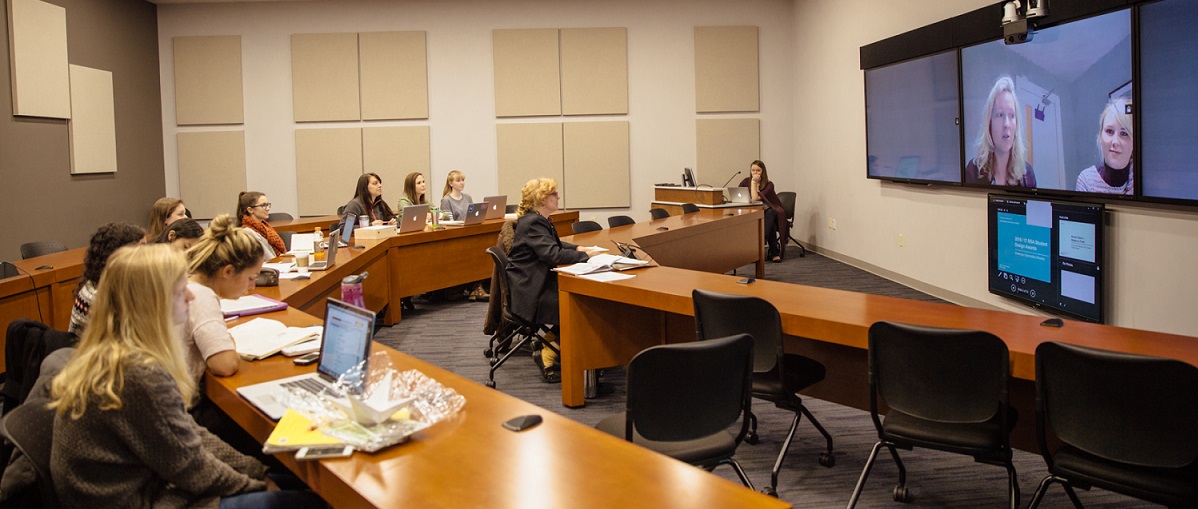 Telepresence
4-VA supports real-time collaboration across Virginia with telepresence technology
In partnership with Cisco Systems, Inc., 4-VA utilizes telepresence systems to connect universities' administrators, staff, faculty and students in a live, virtual environment.
Identical videoconferencing rooms on each campus allow for a seamless conference space that virtually matches the two halves of the room—each on a different campus—to create a cohesive learning environment and eliminate the time and fiscal costs of travel. By deconstructing barriers to collaboration, classes can take place in real time in two places with disciplinary experts working together to deliver innovative instruction.
Grants
4-VA provides assistance in collaborative efforts for multidisciplinary research, course sharing and educational initiatives
Through each university's RFP process, faculty submit requests for research projects to generate initial data and create connections with faculty across the commonwealth. This seed funding is designed to springboard pilot projects for national granting agencies such as the National Science Foundation and the National Institute for Health. Support is also given to course redesigns, pilot courses, course sharing, degree completion, and other educational initiatives.
Learn More
Learn more about 4-VA in our Annual Report.